Basic Policy for International Promotion
Image of Profit Structure for Future Growth
Development of the overseas business is one of our major initiatives for further growth.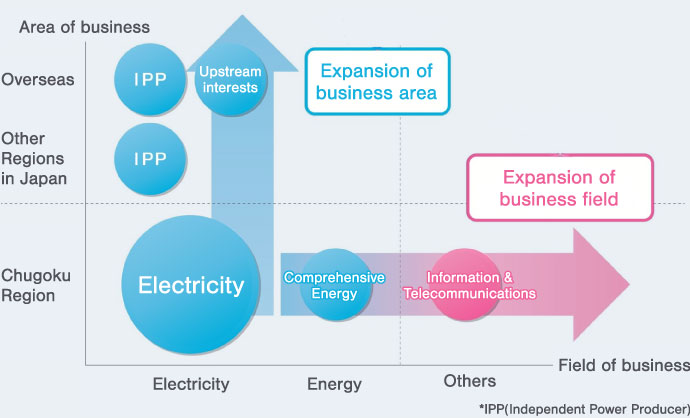 International Business Strategy
To reinforce the management foundation in the future, Chugoku EPCO is working on overseas power generation projects by effectively using the technical knowledge and experience in overseas business operations that the company has accumulated through operations in Japan and overseas.
Targeted field

Not only green field projects (under development) but also brown projects (in operation) are targeted.
From the perspective of the portfolio, we target various power generation projects such as , renewable energy (hydropower, wind power etc.) gas-fired, and coal-fired (Ultra Supercritical etc.).
We also aim to research, analyze, and study power transmission and distribution, power retailing and new related business.

Targeted countries and regions

Aim to work in countries where stable investment environments have been developed, such as a high possibility of organizing project finance based on long-term power purchase contracts.
Although there is no particular geographical limitation, it is mainly Asia, North America and Europe are also targeted.
PageTop