Awards and Intellectual Property
Awards
Chugoku EPCO has introduced various innovative ideas in the field of land development for power stations.
We developed premises by reclaiming land of the coastal area of Seto Inland Sea to construct our thermal power stations.
We have employed ground improvement method such as sand drain method and sand compaction method to improve soft ground. In 1989, we won "Technique Prize by Japanese Society of Soil Mechanics and Foundation Engineering" for the highly evaluated rapid improvement of very soft ground conducted for the construction of Yanai Power Station.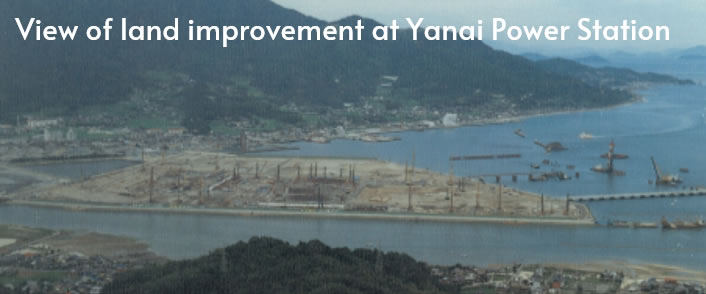 Chugoku EPCO develops and sells products made from coal ash produced from our coal-fired thermal power stations.
We sell "Hi-beads" which is a product made from fly ash suspended in a gas of combustion boilers of a coal-fired thermal power station. It is utilized as an environmental remediation material (sand capping material) in various areas.
With the development of Hi-beads as a material to improve bottom sediment, we received "Development Category of the Prize for Science and Technology" by the Minister of Education, Culture, Sports, Science and Technology in April 2018.
Intellectual Property
Through our aggressive intellectual property activities since 2003, we have been ranked the first position in the energy industry in terms of the number of cumulative registered patents*1 since fiscal 2012.
We focus on not only the quantity but also the quality. We are getting high praise and reputation from a professional research company*2.
*1

We collected data through a commercial system to calculate the numbers.

*2

Patent Result evaluates asset values of individual patents. Chugoku EPCO won first place in the oil and energy industry for eight consecutive years from 2011 to 2018.
Newly registered patents
Cumulative registered patents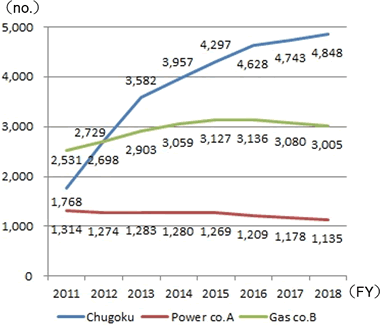 Note

Power co. A is the second position in the power industry and Gas co. B is the top position in the gas industry of this ranking respectively.
PageTop